Equipment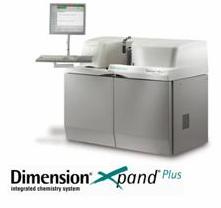 The workhorse of our laboratory is the Dimension® RL integrated chemistry system by DADE BEHRING. The Dimension combines comprehensive chemistry and STAT immunoassay testing on a single compact, high resolution system with unparalleled speed and accuracy. A model of innovation and integration, the Dimension integrated chemistry system features state-of-the-art Dimension® technology tailored for the cautious laboratory. The features of the Dimension include:
Over 90 methods on a single platform
Handles broad menu, including General Chemistries, Therapeutic Drugs, Drugs of Abuse, Immunoassays, Cardiacs, Plasma Proteins and other specialty assays
High throughput of immunoassay (~84/hr)
Over 400 tests/hr; 50 BMPs/hr
Large on board reagent capability
All reagents are bar coded—No manual data entry
Auto dilute, auto repeat and auto rerun capabilities
Sample integrity analysis without compromising throughput
No reagent preparation and tracks reagent expiration dates
No reagent preparation and tracks reagent expiration dates
The Sysmex® CA-560 System is an automated hematology analyzer. This system has a small footprint and high performance characteristics. It is a fully automated system which features immunologic, coagulation and chromogenic measurements in true random access. This capability allows us to offer important automated D-Dimer testing in our test menu.